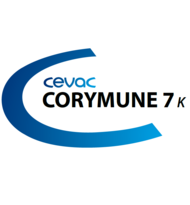 Inactivated vaccine for the immunization of chicken against Infectious Coryza, Salmonella Enteritidis Infection, Newcastle Disease, Infectious Bronchitis and Egg Drop Syndrome 76
Inactivated oil emulsion vaccine
CEVAC®CORYMUNE 7K is recommended for the active immunisation of breeder and laying-type chicken flocks against Infectious Coryza caused by Avibacterium paragallinarum, Salmonella Enteritidis Infection, Newcastle Disease, Infectious Bronchitis and Egg Drop Syndrome'76.
The birds should be previously immunised with live vaccines against Newcastle Disease and Infectious Bronchitis and 4 to 6 weeks before, with an inactivated vaccine against Infectious Coryza and Salmonella Enteritidis Infection.
If you have any questions, please do not hesitate to contact us or send us an e-mail to contact.vn@ceva.com!