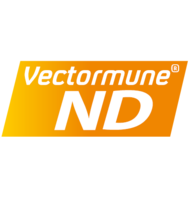 Live vector frozen vaccine
Live vector frozen vaccine for in ovo and subcutaneous administration for the active immunization of chickens against Newcastle Disease and Marek's disease.
Vectormune® ND is recommended for use in healthy one-day-old chicks or in 18 to 19-day-old embryonated chicken eggs as an aid in the prevention of Newcastle Disease and Marek's Disease.
.
If you have any questions, please do not hesitate to contact us or send us an e-mail to contact.vn@ceva.com!