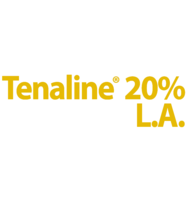 Suspension for injection - Long-acting, broad spectrum antibiotic
Oxytetracycline is a broad spectrum antibiotic and is indicated for the treatment and control of infections caused by or associated with a large number of Gram positive and Gram negative bacteria, Chlamydiae, some Mycoplasma species, Protozoa and Rickettsiae. Oxytetracycline spreads very well in all tissues including necrotic areas and abscesses.
One deep intramuscular injection of TENALINE® 20% L.A gives complete antibiotherapy cover for a 4 to 5 day period. High blood levels are achieved within 30 minutes making this solution of oxytetracycline also suitable for the treatment of acute infections.
For use in pig, cattle and small ruminants.
If you have any questions, please do not hesitate to contact us or send us an e-mail to contact.vn@ceva.com!