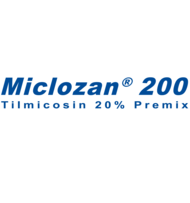 Premix for medicated feed
MICLOZAN® 200 is a granulated feed premix containing tilmicosin phosphate. Tilmicosin is a semi-synthetic antibiotic of the Macrolide group and is believed to affect protein synthesis. It has bacteriostatic action but at high concentrations it may be bactericidal. This antibacterial activity is predominantly against Gram (+) micro-organism with activity against certain Gram (-) bacteria and Mycoplasma.
.
If you have any questions, please do not hesitate to contact us or send us an e-mail to contact.vn@ceva.com!