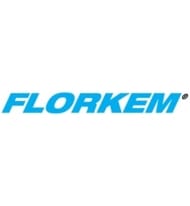 Solution for injection – Florfenicol
Florfenicol is a synthetic broad-spectrum antibiotic effective against most Gram (+) and Gram (-)  bacteria isolated from domestic animals.
Florfenicol acts by inhibiting bacteria proteins synthesis at the ribosomal level, thus is bacteriostatic. However, in vitro tests have shown that florfenicol has a bactericidal activity against the most commonly isolated bacterial pathogens involved in respiratory diseases.
FLORKEM® 300 mg/ml is indicated for cattle and pigs.
Cattle:
Preventive and therapeutic treatment of respiratory tract infections due to Mannheimia haemolytica, Pasteurella multocida and Histophilus somni susceptible to florfenicol. The presence of the disease in the herd should be established before the preventive treatment.
Sows:
Treatment of acute outbreaks of swine respiratory disease caused by strains of Actinobacillus pleuropneumoniae and Pasteurella multocida susceptible to florfenicol.
.
If you have any questions, please do not hesitate to contact us or send us an e-mail to contact.vn@ceva.com!