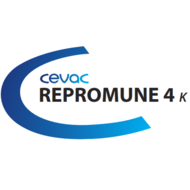 Inactivated oil emulsion vaccine for the immunization of chickens against Newcastle Disease (ND), Infectious Bronchitis (2 strains), Infectious Bursal Disease (IBD) and Reovirus (2 strains)
CEVAC® REPROMUNE 4™ is indicated for use in healthy breeder replacement chickens and breeder hens as an aid in the prevention of diseases caused by Infectious Bursal Disease virus, Newcastle Disease virus, Infectious Bronchitis virus and reovirus. Breeder vaccination provides maternal antibody to progeny of breeder hens as an aid in the prevention of Bursal Disease, Tenosynovitics (viral arthritis) and Malabsorption syndrome.
.
Optimum results with REPROMUNE 4™ require that chickens are adequately primed with live Infectious Bursal Disease vaccine, Tenosynovitis vaccine and Bronchitis vaccine of the Mass type at least four weeks in advance of administration of the inactivated vaccine.
.
If you have any questions, please do not hesitate to contact us or send us an e-mail to contact.vn@ceva.com!