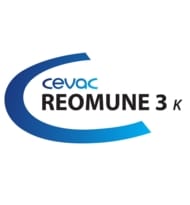 Inactivated oil emulsion vaccine for the immunization of chickens against Reovirus Disease (3 strains)
REOMUNE® 3 is indicated to aid in the prevention of diseases caused by avian reoviruses of the classical S1133 and 2408 serotypes and the variant serotype SS412. 
Breeder vaccination provides maternal antibodies to progeny to aid in the prevention of Tenosynovitis (viral arthritis) and the Malabsorption syndrome including feed passage, brittle bone and proventriculitis.
A prime with live tenosynovitis (reovirus) vaccine is recommended at least four weeks in advance of administration of REOMUNE® 3.
If you have any questions, please do not hesitate to contact us or send us an e-mail to contact.vn@ceva.com!